VIP Sea Life Experience
Includes:
Royal Swim, Harbor Seal Encounter and Stingray Snorkel, lunch and photos of all three interactive programs for one price: ($249-$299)
Interact with three different species, enjoy the shows and exhibits and have an experience of a lifetime at Gulf World in Panama City Beach!
Two time schedules:
1st schedule:
Stingray Snorkel at 10:00 am
Royal Swim at 11:00 am
Harbor Seal Encounter at 12:30 pm
2nd Schedule
Stingray Snorkel at 11:30 pm
Royal Swim at 1:00 pm
Harbor Seal Encounter at 3:00 pm
Limited availability.
Call 850-234-5271 or email [email protected] with your name and contact number to book this special program. This program is available 7 days a week rain or shine with limited spaces. This program is not eligible for additional discounts.
REQUIREMENTS
Anyone that has any medical restrictions, special needs, prosthetics or pacemakers is required to call 850-234-5271 to make your reservation.
Guests must be at least 55 inches  to participate in the VIP sea life program or 48 inches to participate with a paying adult participant.
Participants will be measured before participating in program at check in.
Expectant mothers are not eligible to participate in this program.
Participants must be able to speak and understand English.
Participants must be free of open wounds and show no signs of illness.
No refunds will be given unless cancelled by Gulf World.
Please arrive at least 30 min before your first scheduled program time and account for high season traffic. Programs that have to be rescheduled will be charged a $25 fee per participant.
Observer Rules:
Due to limited space, only 1 paid observer per swimmer over 18 is allowed. Observers are required to pay regular admission fee plus a $5 observer fee. Swimmers under 18 may have one complimentary observer, with the option to pay $5  for 1 extra observer.
Observers are required to pay regular admission fees.
No cameras or cell phones are allowed.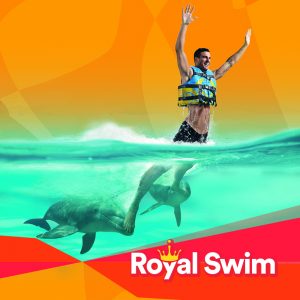 The most fun and unique program, designed to exceed all your expectations. Feel the thrill of the foot—push. The dolphins will rise you above the water surface by pushing you from the soles of your feet. Fun to the limit! Behaviors: Foot push, Dorsal tow, Kiss, Hand target, Handshake, Hug and Caresses, Free time (various activities)
Duration: approx. 30 min shared time with a group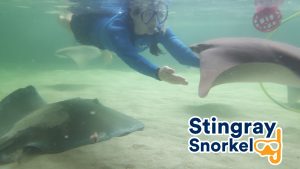 The stingray snorkel program allows guests to snorkel alongside two species of stingrays, Cownose and Southern. Enter the pool where you can kneel down in the water to touch, feed and interact with these graceful creatures in our new 20,000 gallon indoor habitat. Learn about how stingrays eat, live in the ocean and become acquainted with two species of stingrays, Cownose and Southern.  Includes: kiss, cradle, hug, feeding, playing with enrichment toys and free snorkel time.
Duration: 5-10 min orientation, 15-20 min in water and changing times.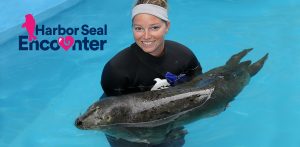 New Program: Get up close and personal with a Harbor Seal. Get in the water with these amazing creatures as you get to know their unique personalities and characteristics. Learn about the differences between Sea Lion and Seals by seeing them up close and personal.
Behaviors: Kiss, Handshake, Hug, Swim By, Cradle, Mimics and Free time (various activities)
Duration: approx. 20 min shared time with a group